Interview: Position Change Brings D-I Offer and Attention for 2018 California LB Alexander Miskela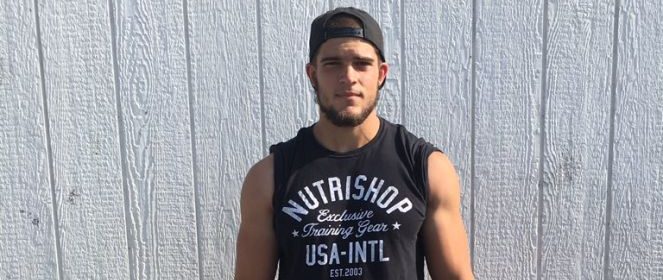 Written by Ryan Wright
Twitter: @RyanWrightRNG
A quick sampling of some of the articles and interviews on RecruitingNewsGuru.com will immediately show the appreciation for all the talent that comes in and out of southern California's Trinity League. The Trinity league straddles southern Los Angeles County into Orange County filled with St. John Bosco, Mater Dei, Santa Margarita, Orange Lutheran, Servite, and JSerra Catholic. Coming out of the season with a winning Trinity League record speaks volumes, but being a starter on one of the top teams immediately gives credence to hard work, dedication, talent, and athletic ability; all character traits Alexander Miskela is taking with him to a new school and at a new position for his senior year.
The challenge ahead for Miskela is a big one, but then again taking on improbable challenges is now second-hand for the rising Class of 2018 talent. During his junior season, he was a starting defensive tackle for St. John Bosco. The Braves were one of the best teams in the nation posting a 13-2 win-loss record capturing a California southern section title and an overall state title downing perennial northern California powerhouse De La Salle 56-33 for the trophy. In addition to playing a Trinity League schedule, the Braves also took on eventual Ohio state champs St. Xavier and MaxPreps No. 1 team, Bishop Gorman, eventual Nevada state champs. They even got a revenge win against conference rival Mater Dei, the No. 3 team in the nation at season's end.
Miskela did his job for the Braves, and did it well, eating up offensive linemen so his linebackers could feast on opposing running backs. Routinely taking on 4- and 3-star rated offensive linemen, Miskela, at 6-2, 237, was a true trench warrior. Trouble is, college coaches do not want a 6-2, 237 pound, defensive tackle on their roster. A change in schools from St. John Bosco to Los Alamitos High School has also brought a change on the field. Miskela is now a starting linebacker for the Griffins taking the field with a wealth of playing experience. In addition to his knowledge of the game, Miskela has beefed up but also slimmed down to 220 pounds posting a 4.5 40-yard dash time at a UC Davis camp.
The physical attributes plus showcasing his talents during spring practices and at college camps have brought next level scouts to the yard. Arizona State, Cal, Idaho, Washington State, and Army are among the interested but BYU was the first to offer.
In a Recruiting News Guru exclusive interview, I sat down with one of the rising stars in the 2018 class covering his play on the field during the 2016 season, his change in positions, and Miskela's booming recruiting.
Interview
Alex, the majority of your snaps last year was at defensive tackle taking on offensive linemen so your linebackers could make plays, are you going to play defensive tackle during your senior year?
"No, I will not be on the line for the rest of my high school career."
What weight did you play at last season?
"Last season, I started out around 220. Knowing I was playing nose guard and tackle, they wanted me up to 280. I went as high as 237."
Have you played linebacker before this year?
"No."
Are you excited about the change in positions?
"Oh yeah. I am completely excited. After our state championship in December, I started focusing on playing linebacker. I dropped from 237 to 220 by around Jan. 14. I cut 17 pounds in a month. I started focusing on getting better athletically. Knowing I had one more year left at a new position, I needed to start early with fundamentals so when the time came I would not be clueless. Fa'avae Fa'avae Sr., I met with him and started training with him. He has helped me a lot. Now I can play and move as a linebacker. My speed got down to 4.56."
You've also transferred schools going from St. John Bosco to Los Alamitos, how has the transfer gone for you?
"It started out rough in terms of the whole process of finding a home here, but I got that taken care of. Going through all the – after transferring it took me about three weeks to get settled but from there it was smooth and easy. In terms of leaving the school after three years and starting on the line, I have nothing against St. John Bosco – I still love the school, coaches, and players. I needed to play linebacker my senior year so I transferred.
"My father and Fa'avae thought it would be best for me to play linebacker my senior year. I don't regret a single step of the process. I believe it has been worth it. I love the friends I have here and my new linebacker partner. The move that I have made was a test of faith but well worth it. Since the BYU offer, that let me know that it has paid off."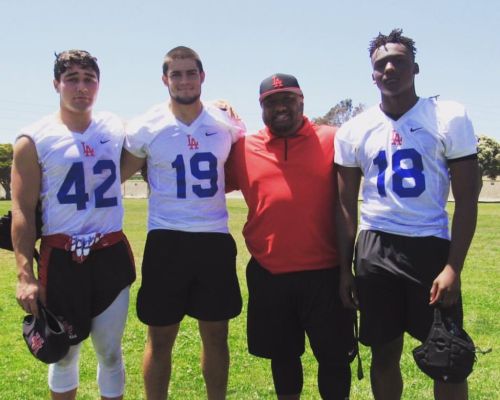 When did you transfer?
"Approximately April 12."
How did spring practices go with Los Alamitos?
"They went great. We had off-season and after that spring practices. I feel like it was more fast-paced and different than what I was used to at Bosco. After a practice or two you adjust. Hearing new coaching points and applying that at the same time, after two practices I got the hang of it. It went well. I feel like I fit in really well. I am fortunate that they view me as one of their players. They accepted me as another guy on the team. That transition was smooth."
What have you been working on to prepare for your senior year?
"For summer practices, in the morning we work from 7:45 to 9:30. After that, I do my own training. I hit the track, then meal prep, and then I go to the gym. I have a second gym session at night."
What is one area of your game Los Alamitos fans are going to come to love right away?
"I am a complete mix of physicality and speed. My ability to top the run on the inside with Isaiah will be something the fans will like. We are two large guys that are both fast and physical."
Have you maxed out in the weight room this off-season?
"Yes, sir. My bench was 370, squat 540, and my clean is 345."
Have you attended any camps yet?
"I attended a Washington camp at Redlands. At an Arizona State camp I set a new record in the shuttle there. The following week I went to a BYU camp. I attended one of four days at that camp and then drove home for practice on Wednesday. On Thursday, I had a practice and on Friday I competed at a UCLA camp. USC's camp is my next one on Sunday. After that, on June 30 I'm going to a UC Davis camp and on July 24 (Saturday), I am going to a San Jose State camp."
The BYU camp obviously was great, but in your words how did it go?
"It was great. It was a padded camp. It was fun. Being able to put on the pads and hit someone was great. My camp portion was broken up in two sessions. First was a padded 9 on 5, pass rush, squaring off against running backs, and tracking drills. From 2 to 4, we took a two-hour lunch.
"At the second practice, we started out padded but took pads off and then did drills. We did linebackers verses running backs in one-on-ones. The running backs had three options to run routes with us covering them. Along with the pass rush and one-on-ones, doing that in front of the coaches helped me. We did a race at the end, a sprint of about 30-40 yards. The tracking drills were on footwork to eliminate wasted steps and wrong angles. At 4:00 the camp ended. That is when I met with BYU's coaches. After the final event, I met with Coach (Ilaisa) Tuiaki in the student athletic building. That is when I received my offer."
What was that like for you to get the offer after all that you've been through to make the move to linebacker?
"It was weird. I am beyond grateful and happy. It was hard to show emotion. After three years of grinding and working my tail off, training at a position I knew I was not going to get anything out of, and then changing to linebacker… I feel like that reaffirmed the move I made was the right one. I feel blessed. I now have what I always wanted which was a scholarship offer. No matter how many offers I might get, BYU is a school that I have always been interested in which means even more to me. The coaching staff is great. The relationship they have with the players and the community in Provo is great. BYU would be a good fit for me if I go that route. I am truly thankful for the offer."
What is the best 40-yard dash time you've ran this camp season?
"I ran a 4.5 at UC Davis with four clocks on me."
Which schools are showing recruiting interest in you?
"Arizona State, Washington State, West Point (Army), Idaho, Utah, Cal-Berkeley, and UC Davis."
Have you made any unofficial visits other than your trip to BYU?
"I had a smaller unofficial visit to Arizona State."
Do you have any visits planned for the rest of this summer or during the fall?
"I plan to visit Idaho and San Jose in July. I know I will visit UC Davis on the 30th."
What goals have you set for yourself for the upcoming season?
"The goals I have set are to be the best linebacker I can be. I want to learn all that I can from the coaches at Los Alamitos. We have great coaches there. I feel like I can be a great linebacker. I want to be a true D-I linebacker out there, not just a big and fast guy but a guy everyone knows can play. That will show in the first couple games of the season. I am ready for it."
Alex, thanks for your time today and good luck with your upcoming visits.
"Thank you."
Please help keep RecruitingNewsGuru.com FREE!
If RNG has helped you, a friend, or a family member through an article, video, or stylized interview with our countless hours of free promotion for high school, junior college, and college athletes – please donate. Any amount is appreciated!
Photo credit: Miskela family; Alex Miskela.
Photo credit:  Miskela family; No. 19 Alex Miskela.