Interview: Prolific 3-Star 2019 Texas QB Chase Griffin Updates Recruiting and Camp Season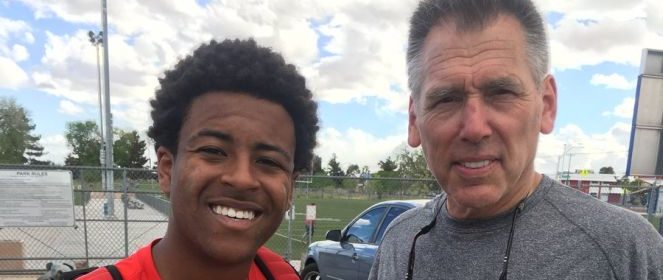 Written by Ryan Wright
Twitter: @RyanWrightRNG
Even before Chase Griffin steps foot onto the field for Hutto High School in 2018, he is already the owner of every meaningful Hippos passing record including single-season, career, and single-game game marks. The 5-10, 186-pound, Texas gunslinger improved upon his sophomore stat line of 3,056 yards with 31 touchdowns tossed by hitting 270 of 405 attempts for 4,145 yards with 40 scores posted on the board against just four interceptions, and even scored three on the ground. Griffin's work on the field is matched by his dedication in the classroom where he carries a 4.7 GPA and has off the charts test scores. Offers have come in from Yale, Seton Hill (PA), Trinity (San Antonio), Brown, Columbia, Cornell, and Dartmouth with other Ivy League schools and top Division-I programs showing interest. In a quick catch-up interview, I sat down with one of the Lone Star State's best quarterbacks covering his recruiting and upcoming camp season.
Interview
Chase, how are the Hippos offseason workouts coming along?
"They are going well. You can tell the type of team we will have with our workouts. We gained lot of confidence from last year going 11-2 within the 2019 class. We have a great team chemistry going and we look to make it even better before the season starts."
What is the focus of the offense's workouts this spring?
"As always, getting bigger, faster, and stronger. That is always a focus. I feel like working with the skill players, it is about the speed of the game. As a collective offense, we missed some chances last year. We want to make it perfect to take that leap towards perfection."
What about your work in the pocket?
"I've always tried to have a quick release. I think I have as quick a release as anyone I have seen; I continue to excel with that. I am making sure my body is right so I can become an even more complete player this season."
Where are you seeing the biggest gains or improvements with your mechanics and technique?
"I'm working a lot more with my torque using my hips. That has helped get more velocity on the ball. I am working on my overall strength, I'm doing a lot of bands and other exercises to become more limber as well."
Have you competed at any camps this offseason?
"I have competed at the Polynesian Combine and the Houston Elite 11."
How did the camps go?
"They both went well. It was another chance to compete and see where you are against other players. I know I can go throw with and as well as anyone. I like going out there and proving myself. I can show my skillset in places like that."
Beyond showcasing your skills, what is your mindset at the various camps?
"I always hold myself accountable at these camps. You have to complete the ball even if you don't have the same chemistry with the receivers as you do with your high school team. Staying accurate at these camps is a great challenge."
Do you have any upcoming camps scheduled?
"I am going to the Dallas Elite 11 Regional (April 29), but after that I am focusing on finishing out school. Spring ball starts next Tuesday and I'm focused on my upcoming college visits."
A nice transition into recruiting. Which schools are showing interest?
"Penn and Harvard – I communicate with them regularly. Michigan State, Utah State, Arizona, and UTSA are all showing interest as well."
Which schools have extended offers to you?
"Yale, Seton Hill (PA), Trinity (San Antonio), Brown, Columbia, Cornell, and Dartmouth."
Have you taken any recent visits?
"I went to Yale and Harvard in early Feb (1-2). On Feb. 20, I went to Trinity and on March 16 I visited Penn."
How did the Yale visit go?
"It went well. I loved the campus. Yale is a beautiful place. I spent a lot of time with Coach (Tony) Reno (head coach). You want to get on these Ivy League campuses; each is unique. I could see myself going there."
How did the Harvard visit go?
"It went well too. Harvard is a great school. My father went to law school there. He is always trying to share with me the uniqueness of Harvard. That was great. Coach (Joel) Lamb (offensive coordinator) and Coach (Michael) Hoarn (defensive line) spent time with me during the visit. I got the lay of the land and saw the campus."
Do you have any planned visit upcoming?
"I plan to visit some more of the Ivies that have offered."
Will you compete at any college camps this summer?
"I am still finalizing that. I will probably compete at all the schools that have offered me and at the ones showing serious interest."
What is important to you right now with the recruiting process?
"The rest of my recruiting process will be based on three things, my relationship with the coaches, the coaches that come down to visit me in my environment during our spring practices, and if I feel I can learn and grow with that staff at that program."
Chase, thanks for your time today and good luck with spring ball.
"Thank you."
Please help keep RecruitingNewsGuru.com a national site aiding in bringing exposure to amazing student-athletes!
If RNG has helped you, a friend, or a family member through an article, video, or stylized interview with our countless hours of free promotion for high school, junior college, and college athletes – please donate. Any amount is appreciated!
Photo credit: Griffin family; Chase Griffin with Jim Zorn at Polynesian Combine