Interview: Sophomore Varsity Experience for 2020 QB Robert Coleman has Him Set for a Breakout Season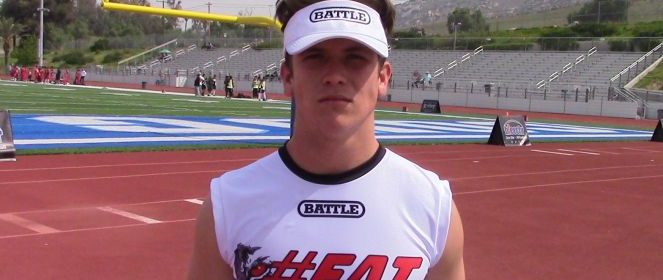 Written by Ryan Wright
Twitter: @RyanWrightRNG
Before Vista Murrieta High School went into Southwestern League play, the Broncos had arguably played one of the toughest out of conference schedules in the nation. The Broncos opened with Georgia powerhouse Colquitt County on the road and then took on in-state powers in Mission Viejo, Orange Lutheran, and JSerra Catholic. Even through the tough schedule, the Broncos made the playoffs only to face eventual national champs Mater Dei High School in the first round. The young roster took their lumps, but gained valuable learning experiences on the gridiron that should make for a nasty squad in 2018. One of the talents on the team ready to dish out a little revenge this fall is Class of 2020 quarterback Robert Coleman.
To say that Coleman faced great adversity during his first season guiding Vista Murrieta is a slight understatement. Colquitt County ended up as the No. 3 team in the state of Georgia by season's end (MaxPreps), Mission Viejo was the No. 17 ranked squad in the nation, and Orange Lutheran and JSerra were Top 20 ranked California squads. Exact stat lines for Coleman's sophomore campaign have not been released, but the lower end estimate was 1,055 yards passing with 10 touchdowns. The stat line will not show it, but the 6-0, 180-pound, rising quarterback has wheels. The dual-threat is faster than he looks capable of breaking a defense down with his legs as well with his arm.
The future is bright for Coleman, especially knowing all the hard work he is putting into his game. In a Recruiting News Guru exclusive interview, I sat down for an in-depth one-on-one getting to know one of the rising quarterback talents in California.
Interview
Robert, how many defenses did you surprise last year with your foot-speed?
(Laughs) "Quite a bit. I was a sophomore. The teams had not seen me. Coming out, they did not know what to expect of me. I feel like I surprised a lot of teams."
I don't know which team it was against, but you got about as good as a crack-back block for your running back on a reverse of the field as one can get. What was the reaction of your teammates after that big play?
(Laughs) "Everyone was excited and hyped. It lifted the atmosphere. The team got into the game even more after that."
How many times did the coach show the play in the film room?
"He did it about five times to show all the linemen how tough I was. They were surprised."
With all the snaps given during your sophomore year, what were some areas of the game where the experience gained will make you a better player during your junior year?
"With my experience, we saw some of the best defenses and played against top D-I guys. I learned how to read defenses better pre-snap and how to read defenses better after my drops. I developed a better feel for the game overall."
What type of offense do the Broncos run?
"We have a new head coach and offensive coordinator. Right now, I am not sure what type of offense we will run. I think we will run a spread-RPO offense."
What type of offense did the Broncos run last year?
"It was a mix. We did some I-back, spread, and some tight end sets. We tried to use all our athletes."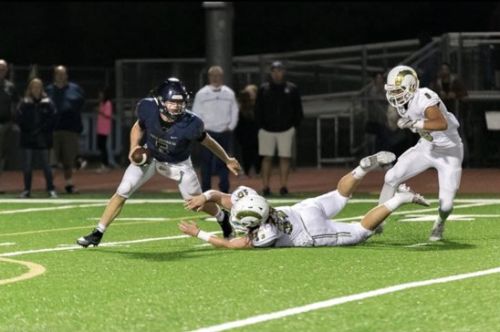 How does the spread offense fit your skillset?
"In the spread, we will be able to use our athletes more. My speed would help move the ball down the field even more."
Within the offense, what are some of your favorite pass routes to throw?
"My favorites are the 5-yard out, cover 2 fade, and corner or post."
What are you working on with your game this offseason?
"This offseason I am working on reading defenses and placement of the ball. My biggest mistake of last year was not knowing how the defenses were rolling. I am working on getting more comfortable with my receivers this offseason as well."
In addition to having a big arm, what are some of the other strengths you have with your game as a quarterback?
"My sophomore season, my leadership role was a big step forward and my athleticism – my speed, and how I can take over the field. I feel like my drops are good. I get good depth on my drops and my mechanics are tight."
Are you playing 7v7 ball this spring?
"Yes, sir. I am playing with E.A.T. (Explosive Athletic Training)."
How is playing with E.A.T. helping push your game forward?
"They are helping me build relationships with my receivers. They are helping me read defenses, helping me with my ball placement, and allowing me to go up against top defensive backs to get more experience."
Do you have any upcoming camps set yet?
"I plan on going to some camps at Redlands and to a USC camp."
Have you taken any unofficial visits?
"I have been to USC. Last year I went to Utah State, Utah, Nevada, and Dixie State. On Saturday, as a 7v7 team we visited UCLA."
What got you excited about visiting UCLA?
"The opportunity to meet the new coaches and the experience to see the campus."
When do the Broncos start spring ball?
"We start in early May."
Is there a goal you have set for yourself over the spring ball period?
"I want us to build a one-unit team. I want us to build up as a great team. I want to take the leadership role and get ready for the season."
How does the team look this offseason?
"We look pretty good. We have a young group, a lot of good underclassmen coming up. We look solid."
What is one thing the team needs to do collectively to have a great 2018 campaign?
"As a team, all the leaders need to lead and we need to come together as a team and roll with it."
Robert, thanks for your time today and good luck with spring ball.
"Thank you."
*Click link to see Robert Coleman's Hudl highlight reel
Please help keep RecruitingNewsGuru.com a national site aiding in bringing exposure to amazing student-athletes!
If RNG has helped you, a friend, or a family member through an article, video, or stylized interview with our countless hours of free promotion for high school, junior college, and college athletes – please donate. Any amount is appreciated!
Photo credit: recruitingnewsguru.com; Robert Coleman playing for E.A.T 7v7
Photo credit: Vista Murrieta High School; Robert Coleman escaping pressure