UNLV Lands 2017 Receivers Jaelon Darden and Johnny Johnson III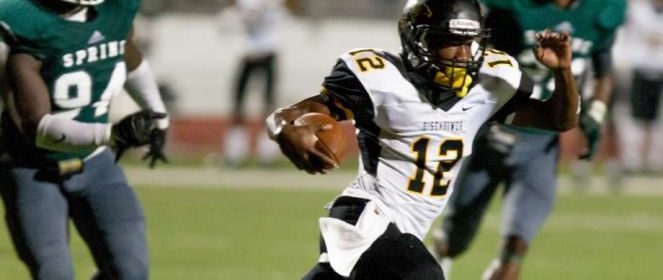 Written by Ryan Wright
Twitter: @HogManInLA
The Rebels added their first two wide receivers to their 2017 recruiting class on Friday securing Jaelon Darden out of Texas and Johnny Johnson III out of Arizona.
Johnson was part of a loaded Wolves team in 2015 making a run through 6A Arizona competition to the third round of the playoffs falling to Desert Ridge. UNLV coaches got a close look at Chandler High School when the Wolves traveled to Las Vegas last season to play Bishop Gorman. The 6-0, 194 pound, receiver was part of a three-headed receiver attack that featured N'Keal Harry and Kolby Taylor. Johnson hauled in 37 passes covering 552 yards with two scores maintaining a 14.9 yard per reception average.
The Rebels fought off reported offers from Nevada, Wyoming, New Mexico, New Mexico State, Montana, Idaho, South Dakota State, and Utah State to land Johnson. UNLV offered Johnson on May 12.
UNLV landed Darden out of Reagan High School in the Houston area after the athlete/receiver played his junior year with Eisenhower. Darden was a do-everything sort for Eisenhower playing quarterback in the Wildcat offense. With the ball in his hands, there are few who are as shifty and quick in space as Darden. Once in the open field, there are even fewer who can catch him in a footrace to the end zone.
Darden was previously committed to McNeese State decommitting on June 1. By the time he switched his commitment to UNLV he had 13 reported offers on the table from teams like Memphis, Southern Miss, Tennessee State, Texas Southern, Prairie View A&M, Grambling, Louisiana-Monroe, and Virginia Tech. Darden posted a commitment statement on Twitter: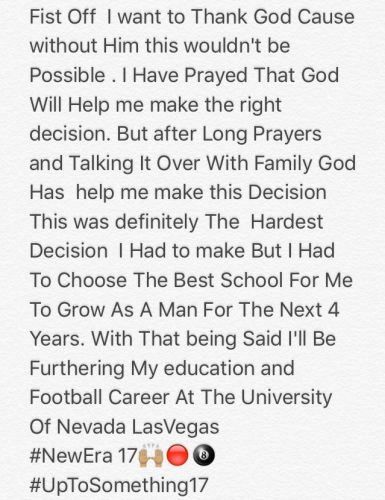 Having a quarterback helps draw in other offensive players. Of the Rebels five verbal commitments, four are offensive players.
UNLV Rebels 2017 Verbal Commitment List
LB Farrell Hester, 6-0, 235, Bishop Gorman, Las Vegas, NV
RB Isaiah Morris, 5-8, 160, Desert Pines HS, Las Vegas, NV
QB Marckell Grayson, 6-1, 195, Desert Pines HS, Las Vegas, NV
WR Jaelon Darden, 5-9, 160, Reagan HS, Houston, TX
WR Johnny Johnson III, 6-0, 194, Chandler HS, Chandler, AZ
Photo credit: chron.com; No. 12 Jaelon Darden finds a hole in the defense.